Weekly Schedule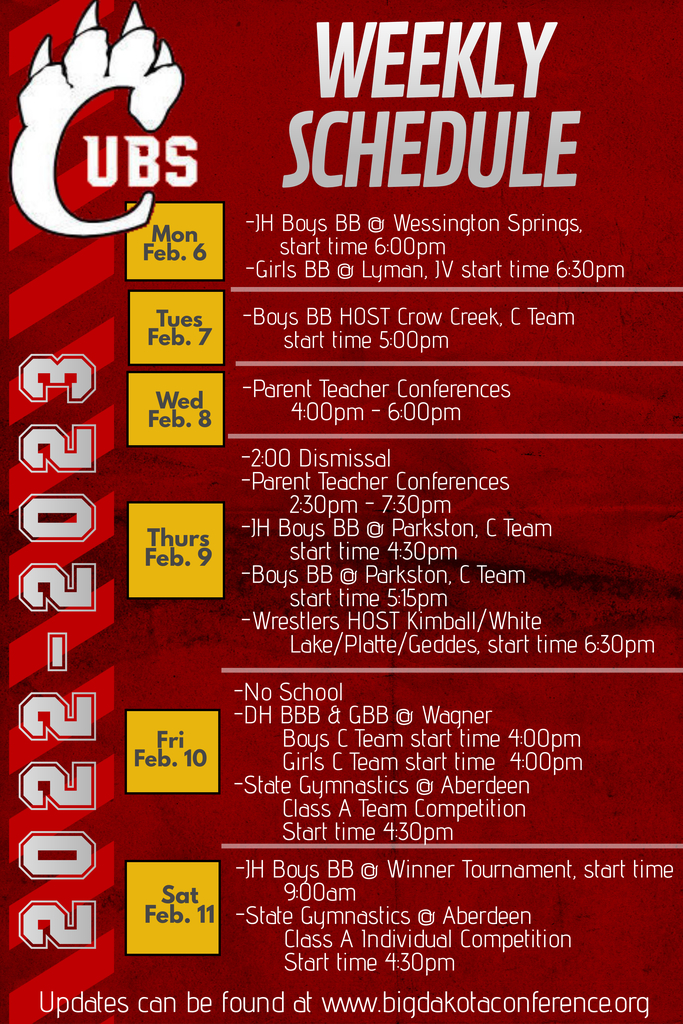 The girls basketball C team has picked up a game versus Wessington Spring tomorrow (Feb 2) in Wessington Springs at 4:00. Wessington Springs has told me they will not charge admission to Chamberlain parents attending the game.

Lesson Plans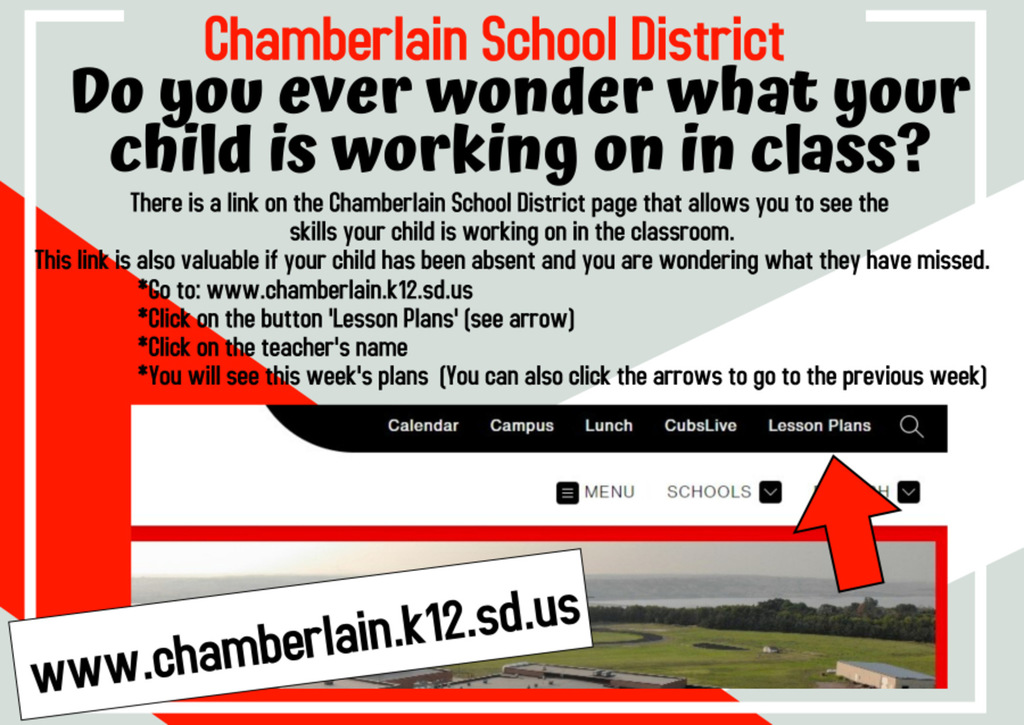 The region Gymnastics meet in Wagner on Friday 2/3 will start at 5:00.


The boys C basketball game with Mobridge has been cancelled. We will be moving the JV games up to a start time of 4:00 with varsity games to follow. If there are any other changes I will post ASAP.

Chamberlain One Act… Tonight at 7pm and 8:30pm #CubNation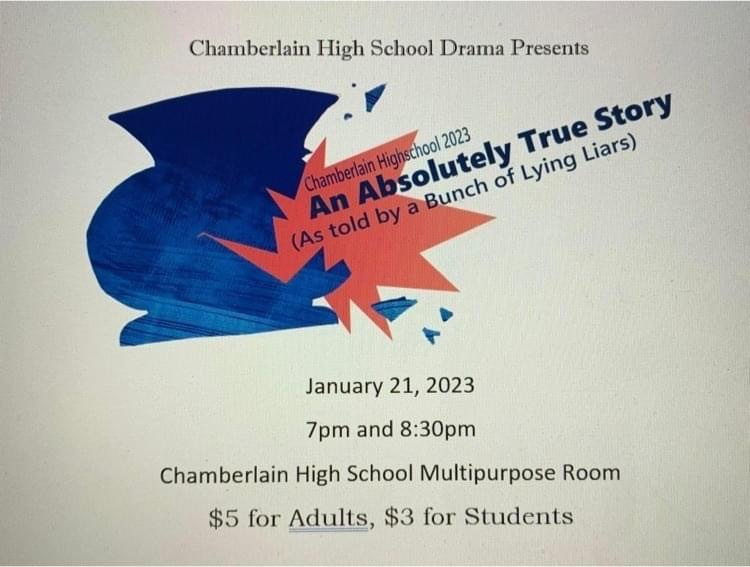 Rescheduled Miller basketball games: Girls 1/23 (Monday) JV at 6:30 varsity to follow Boys 2/16 (Thursday) JV at 5:15 varsity to follow

With school being cancelled, the basketball games with Miller have been postponed. We are working on rescheduling. Once we have rescheduled that information will be update.

After driving several of the bus routes and consulting with the local and county road crews, the Chamberlain School District will be cancelling school and all activities for today, January 19, 2023. Many of the roads in district remain impassable or to risky for our students and buses to be out on. Stay safe! Dr. Zajic

Good Afternoon, After talking with Brule Co. Highway and the City of Chamberlain, the School District will have a two hour late start tomorrow, Thursday, January 19, 2023. Buses will run where possible. There will be no morning PAWS Dr. Zajic

Greetings CubNation, All students were safely transported to the new bus at 2:06pm. They are on route. If you have any questions, contact Dr. Zajic (
Justin.Zajic@K12.SD.US
).

Good Afternoon CubNation, I want everyone to be aware that a school bus, Gene's bus, slid off the road and drove into a snow bank. The bus is immobilized. All students and staff are safe and unharmed. Foreman busing is sending a new bus to continue on the route. We will send another notification when the new bus has picked up the students. If you have any questions, contact Dr. Zajic –
Justin.Zajic@K12.SD.US

Due to deteriorating weather conditions, the Chamberlain School District will dismiss the Chamberlain High School and Middle School students at 12:30. Chamberlain Elementary students will be dismissed at 12:50. All activities for this afternoon and evening are cancelled. No open gym.

Good morning, SDHSAA has just released the information for state wrestling tickets. State wrestling is February 23-25, 2023 in Rapid City. If you would like an all session reserved (adult) ticket(s), they are $50 and have no refund ability. If you would like a student general admission all session ticket(s), they are $30 and have no refund ability. Students wishing to sit with their school/parent (adult) groups must purchase a reserved seat ticket. Kindergarten or younger are admitted free, but not necessarily provided a seat in the reserved section without a ticket. If you are interested, please let Marlo at the high school or Laura Hutmacher know. Payment is due when you order your ticket. Deadline will be January 23rd at noon.

We have had somethings change for Saturday 1/14/23. Here is the new schedule: Girls JV 1:00 CCC Boys JV 1:00 armory Boys Varsity to follow the boys JV (2:30ish) Girls varsity to follow the boys varsity (4:00sih)

The home performance for the One Act Play has been changed slightly. The One Act home performance will now be on January 21 with two shows. Show times will be 7:00 PM and 8:30 PM at the high school.


Due to situations in Platte, the Jr Hi Boys Basketball games for Monday January 9th have changed start times. Here are the new starting times: 4:00 7th grade, around 4:45 8th grade, and around 5:30 6th grade

Snow accumulation and deteriorating road conditions have made it unsafe to travel. The Chamberlain School District will be closed today, January 3, 2023. All activities and practices are cancelled or postponed. Stay safe and warm. Dr. Zajic